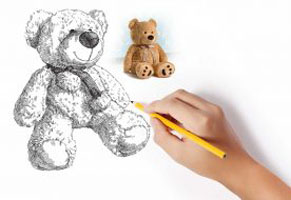 Custom Plush Animals.   The Bear Mill have pioneered and created many  unique designs seen in the industry today. Let us put our expertise to work for you.
When you work with us, you can expect:
Free quotes
The highest quality products
Weekly updates on your prototype
Highly competitive prices
Quantity discounts available
Free Quote
The Bear Mill, Inc.  thanks you for the opportunity to provide you a free quote on your project.
Email The Bear Mill
We ask that you please provide a good description of your product and email any attachments, drawings, sketches or pictures to contact@thebearmill.com. Alternatively you can fax them to: 208 664 9905.
Contact The Bear Mill
If you would like to speak with someone before requesting a quote, please call 208 762 1031 and ask to speak to someone about prototyping and product development procedure.
Confidentiality
At The Bear Mill we take confidentially very seriously. If you need a signed non disclosure, please download and complete the following form and fax it to: 208 664 9905.
Order Policy
Prototype creation is a special order product. For that reason The Bear Mill is unable to refund or accept returns for items ordered in error after the development process is complete.
Any development fees are applied to your first order. Manufacturers require a minimum qty when ordering in bulk to be determined on a case by case basis.
Please ensure that your order is correct at the time your order is placed. If you should have any questions or need assistance, please contact us. 208 762 1031